Everything inside The Arise Box does good
Fair Trade | Ethical | Sustainable | Gives Back
Mermaids & Magic
Why mermaids? Well, one, because they're fun!
Two, mermaids don't apologize for being themselves and we need more of that in our lives! This summer we're using mermaids as a metaphor for uncovering who you really are before "should" and shame told you who you're supposed to be. The world needs YOU (the authentic you) in it.

Explore our previous box themes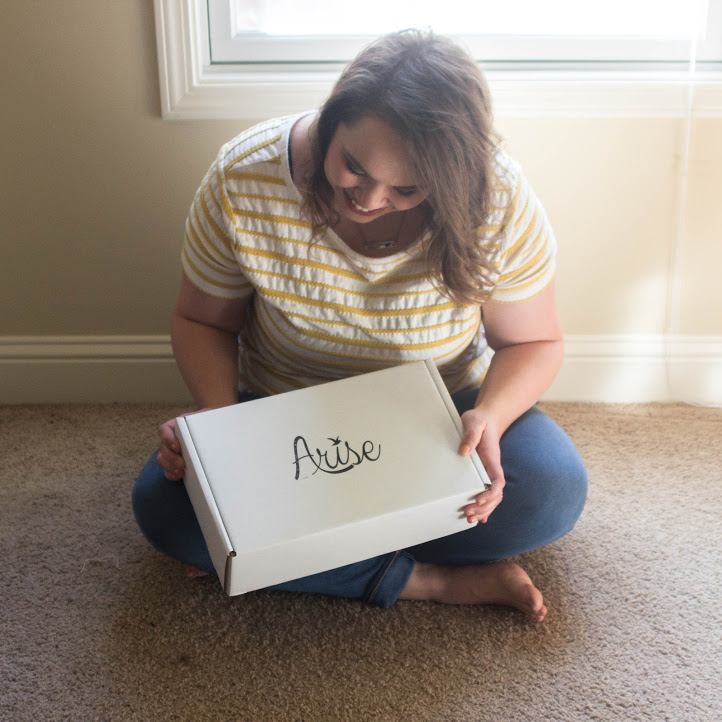 Get "back to nature" this spring with our spring box!
Inside you'll get 4-5 ethical & sustainable items that will inspire you to surround yourself with plants, open your windows, and enjoy nature!
Since we're sold out of the Winter Arise Box, we're sending welcome boxes to you until we can restock! See above for more details.
Theme: Home for the Holidays
Practical goodness to keep you warm and snuggly this winter + every purchase empowers human trafficking survivors!
Your box is supporting dreamers of all ages -- you're sending encouragement to survivors, helping send girls to school in Mozambique, supporting artisans & farmers and more!
Take an adventure. See something new. Wander. This box is packed with all your wandering essentials and all of them make the world a better place!
Fair trade pouch that also donates to survivors
Soft Cover Journal that helps build schools around the world
All natural Bug Repellant that fights Lymes Disease
Good for you Trail Mix that donates meals
Spring -
Fresh & Clean Box
Spring is filled with new beginnings.
It brings a light and slow thaw,
a gentle warmth to fragile new life.
Handmade Wheel-thrown vase that provides clean water
Organic all purpose home cleaner that donates to amplify women's voices
Water-neutral, vegan & fair trade toothbrush
All natural Citrus Bath Soak made by survivors in Nashville
The Cozy Box
Included:
Flores Lane Candle - All natural and hand-poured by unemployed artists in CA.
Devine Chocolate - Fair trade chocolate bar
The Charity Wrap Scarf (Arise Box exclusive) - Funds anti-domestic violence shelters
Florapothcary Whipped Body Butter - All natural & fair trade
Postcard designed Benjamin, 15 year old survivor at Touch a Life's care center
Share Box
Included:
The Charity Wrap Falsa Blanket - Funds anti-domestic violence shelters
Justea - Fair trade purple tea
MySister Lip Balm - Fights human trafficking
Mitscoots Bandana - employs those transitioning out of homelessness & donates equal-value items to homeless shelters.
Postcard designed Benjamin, 15 year old survivor at Touch a Life's care center
Spring 2017 - our First box!!
Included:
Bee's Wrap - Reusable alternative to plastic wrap.
Out of Print Tote Bag - Funds literacy programs and donates books to communities in need
Floret Flowers Seeds - Teaches sustainable farming techniques to USA farmer
Revive Bath & Body Loofa Soap - all natural & fights human trafficking
Postcard designed by The Arise Box
Summer 2017
Included:
ReCreated Co. Mug - Provided clean water
Go Everly Drink Flavoring - Provides essential nutrition to children with waterborne illnesses
Square Hue Nail Polish - Fights human trafficking
Riviera Towel - funds nonprofits protecting ocean life
Postcard designed by The Arise Box
When you buy an ethical box, you build a care package for a human trafficking survivor.